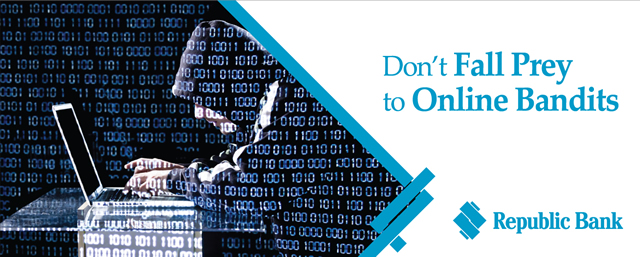 Don't Fall Prey to Online Bandits
Republic Bank will help you stay secure!
Safeguard your online activities and protect your finances in five easy steps:
Create Strong Passwords - Create complex passwords that utilize upper and lower cases, alpha, numeric and special characters. Dont use the same password for multiple sites. Never write down or reveal your passwords. Change passwords regularly.
Lock your Computer - Always lock your computer when you are away.
Think before you click - Malicious websites look very real, so verify the URL destination before you click.
Use Public Wi-Fi Carefully - Take extra precautions when using Wi-Fi.

Avoid conducting financial transactions.
Ensure websites use HTTPS.
Watch out for people who surf over your shoulder

Use Social Media Carefully - Be cautious about posting and participating in games and surveys. Ask all your contacts to keep personal information private. Review and update your social media privacy and security settings often.
Take online security into your own hands! Make sure your computer and other electronic devices are on lockdown 24/7.